Venezuelan soldiers fired rubber bullets and tear gas at protesters blocking a highway in Caracas on Sunday, in one of several violent scenes surrounding a contentious vote for a Constituent Assembly to rewrite the constitution.
After an initial skirmish in the upmarket district of Santa Fe, the National Guard troops withdrew and protesters -- some wearing masks and carrying Molotov cocktails -- returned to block the road.
"We are here as pure resistance, against the process happening today against the constitution. The people are not going to give up the streets until this awful government goes," one 54-year-old militant, Carlos Zambrano, told AFP.
"We will remain fighting until (President Nicolas) Maduro leaves," he vowed.
In the western neighborhoods of El Paraiso and Montalban, residents said soldiers "invaded" apartment buildings looking for demonstrators.
"They arrived firing, from the corner over there. There was running everywhere and they fired at the buildings, fired at the people," one local, Conchita Ramirez, told the Vivo Play television network.
"All the people desperately ran for cover into the buildings," she said.
"I don't know where their hate comes from.... This is war!" she said, crying.
Journalists trying to cover the situation in El Paraiso were set upon by soldiers who told them to leave.
"Get out of here before shit falls upon you," warned one man in uniform, caught on camera by Vivo Play.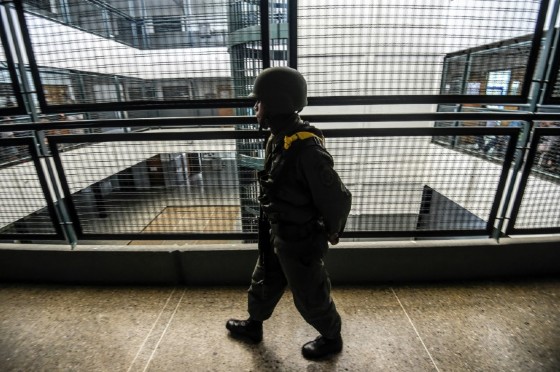 In Venezuela's second city of Maracaibo, National Guardsmen were also seen firing tear gas and stun grenades.
The opposition coalition, the Democratic Unity Roundtable, had called on supporters to hold mass demonstrations in Caracas and elsewhere in the country.
It has denounced Sunday's election as a "fraud" designed to allow Maduro to cling to power and to bypass the opposition-controlled congress.
Four months of protests against Maduro and his policies have left more than 110 people dead and exposed deep political rifts within the country, an oil producer reduced to economic ruin.
Ahead of the vote, Maduro sought to prevent further demonstrations by issuing a decree saying any anti-government protesters risked up to 10 years in prison.
He has declared the Constituent Assembly -- which will have the power to dissolve the congress -- as the only path to restoring peace and prosperity.
Surveys however suggest that his plan is rejected by more than 70 percent of Venezuelans.