With two golds and two world-records at the world championships, British breaststroke ace Adam Peaty has sparked a bout of 'Peaty-mania' in Budapest.
As expected, Hungary's swimmers are roared on by the home crowd at the Duna Arena, but Peaty is the only non-Hungarian to be greeted by a similar ear-splitting din when he races.
"The arena here is absolutely crazy -- obviously when a Hungarian walks out, there is a massive roar, but when I walked out I had that support as well and it's great to see," said Peaty.
With Michael Phelps now in retirement, Peaty is well on his way to becoming swimming's next big superstar and attracts plenty of attention in Hungary's capital.
As the reigning Olympic 100m champion, the 22-year-old underlined his status as British swimmings' pin-up boy by winning both the 50m and 100m breaststroke golds in Budapest.
He produced two electrifying swims over 50 metres on Tuesday, breaking his own world-record by clocking 26.10 seconds in the morning's heats and 25.95 in the evening's semi-finals -- the first man to duck under 26 seconds.
He backed that up with a victorious 25.99 in Wednesday's final to underline his domination.
Peaty can finish with another medal in the men's 4x100m medley relay which will close the world championships in Budapest on Sunday.
Videos of Peaty punishing his toned physique in training are scattered over the internet.
'Peaty push-ups'
A video of a 'Peaty push-up' -- where he pushes up hard enough to get his entire body airborne -- has gone viral.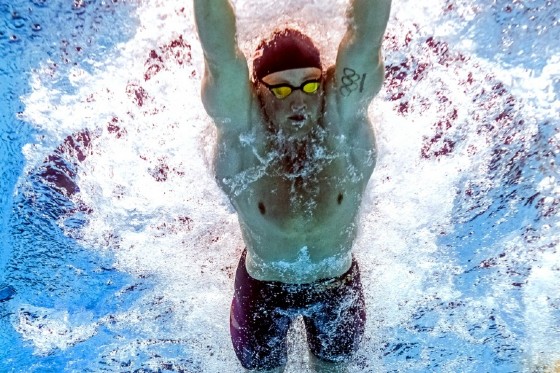 "It's been incredible, the support I've had from back home and on social media has been mind-blowing," said Peaty.
"I broke the first world record, then the second one, it has been flat-out amazing support which has carried me through the week.
"I have kids and their parents tweeting me trying to do a 'Peaty press-up', it's great to see I am having that effect.
"I didn't think swimming would have had that kind of coverage a couple of years back home."
Peaty's focus now is on defending his Olympic title at the 2020 Tokyo Games.
He has moved to Loughborough, England, where British swimming is based, to cut down on travel and his language is scattered with positivity: 'moving forward', 'improving', 'getting better' -- no stone is left unturned.
He works with a sports psychologist, but there is no big secret to his success.
"It's 'hard work', but that is the boring answer. If you came and watched us train you wouldn't believe the amount of work we put in. It is just relentless day in, day out," said Peaty.
"Every time I drive to the pool, I have to get my mind in gear.
"Sometimes you are so tired, but it's about finding that one percent which will make the difference.
"I am already thinking how can I go 25.5 (over 50m), how do I go to 56 territory (over 100m), which is hopefully coming soon."
Iron-will
Petty's phenomenal fitness means he produces a stroke rate few rivals can match.
"My technique is a bit different from everyone else, my kick is a little narrower," he said.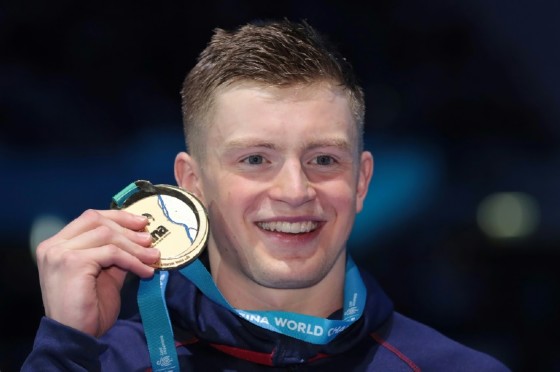 "My rivals can copy it by all means, but as I have always said a copy is never as good as the genuine thing.
"For me, it's not really a technique, it's a feel in a fluid stroke."
Peaty, who hails from Uttoxeter in the English midlands has never forgotten his roots and has the iron-will of a champion.
"I have grown with what I have done and stepped up a notch year on year, but I don't buy into the idea of pressure, I don't really believe in it," he said.
"I want to perform well. I am very patriotic, I don't want to let my country or my family and friends down.
"It's about giving back to those who supported me, I came from the bottom and no one would have expected me to be in this positon I am in now.
"Hopefully this will give kids around the world -- not just in swimming, but in any sport -- some belief in themselves.
"There are young guns coming up all that time, but that just keeps me motivated as they want a piece of the world or Olympic crown."