The future of the Republican effort to squash Obamacare hung in the balance Monday with Senator John McCain, whose vote is needed to pass the legislation, recovering from surgery away from Washington.
There are no votes to spare in the contentious effort to pass a new health care reform bill through Congress, where Republican leaders are desperate to fulfill President Donald Trump's campaign pledge to dismantle the 2010 reforms of his predecessor Barack Obama.
So when McCain, 80, announced that doctors in Phoenix removed a five-centimeter (two-inch) blood clot above his eye -- a procedure that experts told US media might be more serious than initially thought -- Senate Majority Leader Mitch McConnell said he would "defer" the upcoming vote on the bill by at least a week.
Republicans hold 52 of the chamber's 100 seats. With Democrats united against the new health care bill, and two Republicans -- one conservative and one moderate -- already declaring their opposition, McConnell cannot afford to lose a single vote.
Several others in the party have expressed reservations about the legislation, leaving it hanging by a thread just weeks before the Senate decamps for its summer recess -- a break already delayed in a bid to wrangle support for the controversial plan.
Senate leadership held to the idea that a vote was forthcoming.
"I believe as soon as we have a full contingent of senators, that we'll have that vote," number two Senate Republican John Cornyn told NBC's "Meet the Press" on Sunday.
But questions swirled Monday about just how much recovery time is needed for such surgery, in which doctors performed a craniotomy, an opening of the skull in order to access tissue or blood near the brain.
While McCain's office said he will be recuperating in Arizona this week, neurosurgeons told The New York Times that typical recovery periods may last longer.
A delay would undoubtedly complicate McConnell's effort to ram the legislation through the Senate.
'Simply unworkable'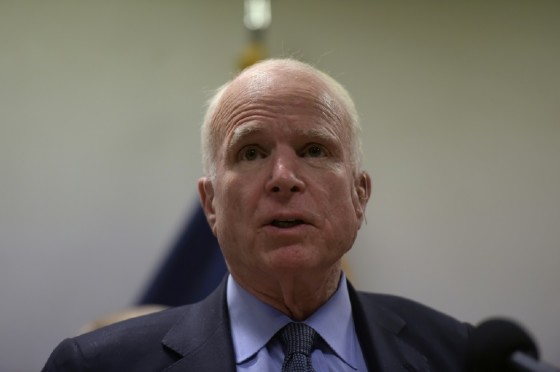 Republican leaders are eager to notch a major legislative victory for Trump, but there is a pending logjam of important business in the Senate, including consideration of raising the limit on federal borrowing.
Achieving Trump's goal of ditching large parts of Obama's sweeping health care reforms has been elusive as his administration nears the six-month mark later this week.
Some fear that repealing the Affordable Care Act could adversely impact millions of Americans by effectively forcing them off of Medicaid, the health insurance program for the poor and the disabled, or making health costs soar for people with pre-existing conditions.
There is little institutional support for the bill, and even less for an amendment introduced by Senator Ted Cruz that would allow insurers to offer bare-bones plans.
Chief executives from two of the nation's largest insurance groups, America's Health Insurance Plans and the Blue Cross Blue Shield Association, warned that implementing Cruz's amendment would be a disaster.
"It is simply unworkable in any form and would undermine protections for those with pre-existing medical conditions, increase premiums and lead to widespread terminations of coverage for people currently enrolled in the individual market," the CEOs wrote in a letter to McConnell.
The House of Representatives passed its version of an Obamacare repeal in May. But the Senate has stumbled, with Republicans in rival conservative and moderate wings finding it hard to get on board.
Democrats have smelled blood in the water.
On Monday, former vice president Joe Biden eviscerated the plan, saying it would take "peace of mind" away from millions.
"They want to drag us back to a time -- not all that long ago -- when Americans could be denied basic health care because they were unable to afford it," he wrote in The Washington Post.
Failure to pass the bill would mark a humiliating defeat for Republicans who have spent much of the past seven years vowing to kill off Obamacare.
A Post poll released Sunday showed that Americans preferred Obamacare to the Republican plan by a two-to-one margin, 50 percent to 24 percent.