More than two thousand people took part in Kiev's gay pride event on Sunday amid a heavy police presence as nationalist protesters tried to halt the event and burned a rainbow flag.
Participants walked through the city centre, waving the gay rights movement's rainbow flags protected from counter-protesters by lines of Ukrainian police and National Guard.
Ukraine's pro-European authorities ensured the gay pride event could go ahead despite widespread homophobic attitudes in the ex-Soviet country where gay marriage is not permitted. Police said around 2,500 marchers took part.
"Finally in our country we are able to come out for our rights and show that we exist," said one participant, Tetyana.
"I feel nervous and happy that I can come out and not fear anything."
Another marcher Volodymyr Kosenko said "I feel pride today because I see round me my friends and acquaintances and my husband. I see people who came out to say that everyone is equal in Ukraine."
Marchers shouted slogans such as "We're different, we're equal!" and "Ukraine for all!"
Among the marchers was British Ambassador Judith Gough, who wrote on Twitter there was a "fine party atmosphere."
But the marchers were opposed by more than 100 ultra-nationalists who tried to block the route and burned a LGBT rainbow flag.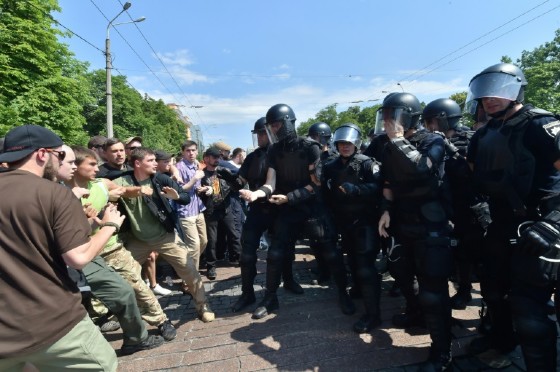 The police contained the ultra-nationalists, however, and organisers slightly changed the route to take a parallel street to avoid them.
Police said they detained six protesters who tried to break through the cordon.
"I'm convinced that this is wrong. It's a sin and it can destroy our country morally," said Irina, a student, who was protesting against the event.
"I condemn the propaganda of homosexuality in Ukraine and particularly the holding of gay parades. I came to speak out against it. The Bible says clearly it's a sin," said Kyrylo Babentsov.
Last year's Kiev event was held in the city centre for the first time amid an unprecedented police presence and attracted around 700 participants.
In 2015 a gay pride event -- held far from the centre -- lasted only a few minutes before stone-throwing nationalist protesters clashed with the participants and at least 10 people were injured and 25 detained.
A 2014 march was cancelled after police refused to ensure participants' safety.
In neighbouring Russia, Moscow authorities have never authorised a gay pride event, arguing that the public is not ready for it, and riot police have broken up unauthorised marches.