KIEV - The Eurovision Song Contest final kicked off in Kiev on Saturday with a melancholy Portuguese ballad tipped to beat off hot competition from Italy's gorilla-suited dance number while Russia sits out after a controversial ban on its singer.
The ceremony in the capital of ex-Soviet Ukraine began with a glittering light show as the contestants took turns to take a bow on a stage lit up in the colours of their respective national flags.
The annual celebration of catchy europop, ludicrous costumes and glittering divas watched by some 200 million TV viewers is being hosted by Ukraine for the second time.
While English is usually essential for a Eurovision win, this year the songs that are close rivals to win are in Portuguese and Italian.
Portugal has never won Eurovision but it has scored a surprise hit with its fado-tinged, melancholic song "Amar Pelos Dois."
The Portuguese contestant, 27-year-old Salvador Sobral, has a life-threatening heart condition that prevented him from taking part in some rehearsals.
Italian Francesco Gabbani refers to Hamlet, the state of Western civilisation and Desmond Morris's anthropology book "The Naked Ape" while a gorilla-costumed dancer boogeys by his side.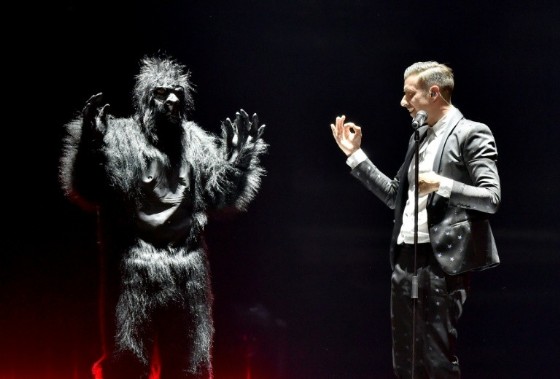 "The gorilla isn't just for fun," he told journalists ahead of the final. "We are all like naked apes."
Italy has won twice in the 1950s and 1960s but shunned the contest for more than a decade from 1997 before rejoining it in 2011.
The latest edition of the contest that began in 1956 with just seven countries will offer the usual feast of wacky stage acts and cheesy beats, while a surprise proposal to one contestant during the semi-finals melted hearts.
Azerbaijan's act features a man wearing a horse's head on a stepladder while Romania presents an unlikely combination of yodelling and rap with two giant cannons on stage for no apparent reason.
Macedonia's contestant Jana Burceska failed to make the final but received a televised marriage proposal during the second semi-final, screaming "Yes!" to audience cheers as her boyfriend knelt down with a ring.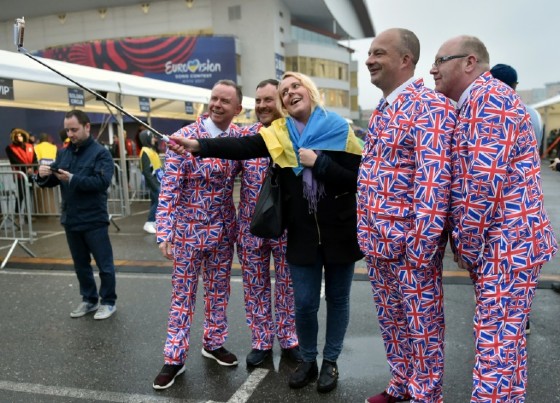 Britain may be experiencing a post-Brexit vote chill in Europe, but is pulling out all the stops with its big ballad performed by Lucie Jones.
Prime Minister Theresa May has vowed not to exit the contest, despite the nation winning derisory points in recent years.
Garlands, rainbow flags
Fans streamed into the Eurovision venue, an exhibition centre out of the city centre, wearing flower garlands and draped in national flags while some waved rainbow gay pride flags.
For the contest, Kiev's main Kreshchatyk Street has been transformed into a Eurovision fan zone with a large stage, beanbags and European Union flags.
Fans with flags painted on their faces snapped selfies, danced, sang and drank beer.
"I feel a lot for Ukraine because the country is at war and still they arranged it so well," said Hanna, 43, from Finland.
Amid heightened security, some 10,000 police were deployed on the streets, some carrying semi-automatic weapons.
Impact of war
Ukraine is hosting Eurovision amid a continuing armed conflict with pro-Russian separatists in the country's industrial east that has now killed more than 10,000.
A top Ukrainian official said Saturday that separatists killed four civilians in shelling hours before the contest started.
And that news led Ukrainian President Petro Poroshenko to cancel his appearance at Eurovision.
He wrote on Facebook that "due to the shelling of Avdiivka and the death of peaceful civilians, I took a decision to cancel my presence at the Eurovision final."
On Kiev's central Independence Square a billboard listed nine Ukrainian soldiers killed this month, with the slogan "This is the price we paid for every single day we lived in peace."
The impact of the hostilities echoes in the contest with neighbour Russia conspicuously absent.
Kiev barred Russia's Yuliya Samoilova because she had illegally entered Crimea to perform there after Moscow's disputed 2014 annexation of the peninsula from Ukraine.
Both countries ignored pleas from organisers, the European Broadcasting Union, and Russia has refused to air the contest, while viewers in separatist eastern Ukraine are also unable to watch.
Russia has vowed that Samoilova will compete in 2018, placing Ukraine in a tricky dilemma over whether to participate alongside her.
During the Kiev contest, it emerged that Bulgaria's finalist, 17-year-old Kristian Kostov, had also performed in annexed Crimea three years ago.
But Ukraine let the singer, who has appeared on a Russian television show, stay in because he was just 14 at the time.
Ukraine first hosted Eurovision in 2005 when the contest symbolised the country's quest to open up to Europe after the 2004 pro-Western Orange Revolution.
Ukraine won last year with the song "1944" performed by Jamala, which referred to the Stalin-era deportation of the Crimean Tatar ethnic group from the Black Sea peninsula.
This year, Ukraine is using the contest to take tentative steps to soften the climate of homophobia prevalent in the ex-Soviet Union.
The authorities handed out a map of gay-friendly venues to fans of the contest with a massive gay following.
In a cheeky move, they also startedrepainting in the rainbow stripes a huge arch in central Kiev that commemorates Ukraine and Russia's Soviet-era friendship -- only to be physically threatened by ultranationalist protesters.
On Saturday, the arch remained unfinished with expanses of grey among the bright colours.