NEW YORK - Mason Crosby kicked a last-gasp field goal as the Green Bay Packers downed the Dallas Cowboys 34-31 in a thrilling NFL playoff battle on Sunday.
Crosby held his nerve superbly to kick the winning three-pointer from 51 yards with just three seconds left on the clock in the final twist of an epic duel at the AT&T Stadium.
Green Bay will now play the Atlanta Falcons next Sunday in the National Football Conference Championship game for a place in the February 5 Super Bowl in Houston.
Crosby's winning field goal came after quarterback Aaron Rodgers connected with Jarad Cook with a 36-yard pass at the Dallas 32.
Cook was initially adjudged to have gone out of bounds but the call was over-ruled, handing the Packers field position and Crosby his shot at immortality.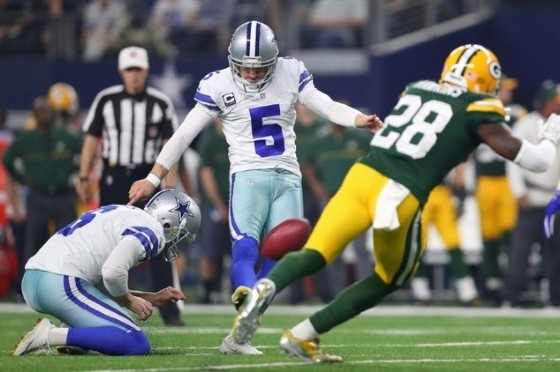 Packers coach Mike McCarthy paid tribute to Rodgers' ability to lead the game-winning drive with just seconds left.
"He's an incredible talent," McCarthy said. "To do it when it's on the line like that, that's what great players do.
"That was one heck of a football game to be a part of. I just can't say enough about my football team's resiliency."
The finale capped a pulsating closing two minutes. Crosby had kicked a 56-yard field goal to put Green Bay 31-28 ahead only for the Cowboys -- who had rallied back from a 21-3 first-half deficit -- to tie it at 31-31 with a 52-yard Dan Bailey effort.
The Cowboys -- the top seeded team in the NFC after a 13-3 regular season -- were left ruing a shaky first half display which saw Green Bay power ahead.
Cowboys rookie quarterback Dak Prescott and running back Ezekiel Elliott both failed to exert control in the early stages but it was the Dallas defense's inability to stymie Rodgers that proved fatal.
After Bailey had kicked a field goal to put Dallas 3-0 ahead, Rodgers took over.
The Packers quarterback connected with namesake Richard Rodgers on a 34-yard pass for Green Bay's opening touchdown.
Dallas were then forced to punt their next possession, and Rodgers duly marched his team 90 yards upfield to allow Ty Montgomery to rush over from three yards.
Another Dallas punt was followed by another relentless Green Bay drive which went 80 yards before Montgomery barrelled over from one yard to make it 21-3.
Dallas responded with a quickfire touchdown over their own, Prescott finding receiver Dez Bryant with a 40-yard touchdown pass that cut the score to 21-10.
A further Bailey field goal gave Dallas hope at 21-13 but Green Bay were quickly back into their rhythm early in the third quarter when Rodgers found tight end Cook for the simplest of three-yard touchdown passes to restore the Packers' 15-point cushion.
Dallas then got on top with Jason Witten and Bryant scoring touchdowns before Prescott rushed for a two-point conversion to tie it 28-28.
But with just minutes remaining, Crosby was to prove the hero for Green Bay in his duel with Bailey.